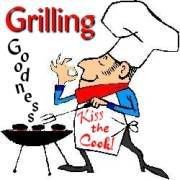 Yay! It is about time that things got settled enough for me to get back around to some Grilling Goodness. I've got some catching up to... Soon to come, I'm going to have one big cookout. :) But until then, here are this weeks Q & A's:

1. What's the worst thing you've ever sent through the washing machine/dryer?
Oh my goodness! With Sugar and Spice as your children, all sorts of nasty/bad things have been washed around our house. Lot's of money! We have the cleanest money of anyone I know. Lip stick, rocks, tootsie rolls, bubble gum, the list just goes on and on.

2. Do you do any of your Christmas shopping online?
Yes, I love the convenience of being able to shop online. No crowds. No one fighting over the last item. No standing in line. No driving from store to store looking for the years hottest item. AND during the holiday's you can usually get free shipping. Online shopping rocks!

3. What are you looking forward to this Thanksgiving?
I love Thanksgiving. Any holiday that allows you to gorge yourself on good food without anyone looking at you like you're the worlds biggest pig is a good one in my book. And to top it off, my husband is an excellent cook! He always cooks us a wonderful meal.

I know that many people go out and visit relatives on Thanksgiving; but I prefer to spend the day at home with my family. This year I am looking forward to the first of many Thanksgivings to come, in the comfort of our new house.

4. What did you do before you had children that you miss doing that you have children?
If my husband were answering this question, he would say that he misses sex.
Sorry, couldn't resist. ;)

I, on the other hand, will say that I miss having a clean house. In fact, if I didn't have to walk around and pick up behind the little tornado's that wind their way all through my house – on a daily basis. Or nag someone to pick their things up 350 times before it finally got done, I would probably have more energy to grant my husbands wish for sex more often. I'm just sayin' ;)

5. Do you have a fireplace? Do you use it?
For the first time in our togetherness, we do have a fireplace. It was not a must have but it sure is pretty. Like Tina, though, ours is gas and will probably never be used – except for by Santa.

6. Do medical shows showing surgeries and blood freak you out?
I LOVE ER. That is one of my favorite shows and I will be sad when it ends this season. :(
I can watch shows like that but I do not like watching the more 'real' versions of the ER - the ones that show all the gross stuff.

I don't like to watch people being cut open or poked with a needle. In fact, I turn away whenever I get a shot too. *shudder*

7. How long have you lived where you live?
Two glorious weeks!


8. What is one of your favorite seasonal items?
Eggnog milk shakes at Mc Donald's. Mm-mm Good! Yummy! (of course mine would center around some type of food, right? Ha!)