YAY! It's time for another round of Grilling Goodness. I looked for it last week but our hostess must have been busy eating turkey or something ;)
*Sheesh!*
Click here
if you would like to play too - and don't forget to go back and tell Mr. Linky that you posted. :)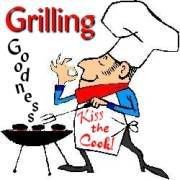 1. Do you send out Christmas cards? Have you done it yet?

Christmas cards are kind of like dinosaurs, aren't they??
Once upon a time, long, long ago, I used to send Christmas cards every year. But as the years passed on and the cost of stamps went up, the number of cards sent went down, until they finally became extinct - replaced by the cost efficient "Free" e-cards.
Every year I get a Christmas card from my friend
Tina
. And every year I think how nice it was for her to think of me and I tell myself that I am going to start sending cards again; but then the next year rolls around and the sending of the cards gets overlooked - once again.
Maybe this year will be the year that the
dinosaurs
Christmas cards return (don't laugh, it
could
happen).
Please stay tuned to find out... ;)
2. When you cook chicken, do you cook a whole chicken?
When and
if
I ever cook chicken, I'll let you know ;)
3. What is your favorite Christmas movie?
Oh, this is a hard one...there are so many good Christmas movies and I truly love them all but my all time favorite
has
to be
It's A Wonderful Life
.
4. How often do you go to the grocery store?
I
hate
going grocery shopping so I usually try to avoid it whenever possible.
Most of the time, I'll try to hold off until the hubby gets back and then send him; but we usually have to go at least once a week - I might be able to stretch it out to once every two weeks, if I play my cards right.
5. Do you play games online?
Not really, but for a while there I was addicted to playing the games on
Webkinz
- don't judge, they're really fun!
6. Do you make your bed everyday?
Um yeah, sure. Isn't that obvious in this here picture that I took??
7. What is one of your favorite websites? (Hopefully this is understood, but please share only the G rated sites! lol)
G Rated, huh? Gosh, that really narrows it down for me....
And for those of you who don't know me...KIDDING!!!
There are many informative websites out there that I really,
really
like: dictionary.com and snopes.com are two prime examples. However, my newest, most favoritest website is
~~~ drum roll please ~~~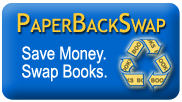 I first heard about this wonderful website by one of my favorite blogging buddy's,
Mama Mia
. I said I was going to check it out, but then I forgot. :(
About a month later, I was talking to another of my bestest blogging buds,
Amy from In My Life
, when she reminded me about it - at which point I ran right over to check it out and fell immediately in love!!
This is quite possibly the answer to a low budget, avid reader's prayer. If you like to read, I strongly suggest checking this one out.
8. What gives you the most laughter in life?
It's hard to nail this answer down to one single thing. Laughter is a key element in my life and I like to surround myself with as much of it as possible.
My husband, my children, my friends and myself; I am blessed with laughter ever single day by at least one, if not all, of these people.