Another year has come and gone. I hope everyone had a Happy New Year.
As I'm sure you've noticed, I took a little blogging break over the holiday season - as did most of blogsphere ;)
I'm certain that I'll be back to the regularly scheduled program sometime in the next week and at that time I'll tell you all about our Christmas holiday in the new house - who knows, maybe I'll even have some pictures to share ;).
Until then, how about a little
Grilling Goodness
to start off the new year?!?!?
For those of you who don't know what the
Grilling Goodness
is all about: this is a fun little Friday meme that my friend
Tina
created, as a way to get to know you better.
Feel free to play along, if you would like; and after you finish, don't forget to go back over to
Tina's
and tell Mr. Linky - I'm sure she would love to hear what you've got to say.
In the meantime, on with the first
Grilling Goodness
of 2009 - Let the fun begin!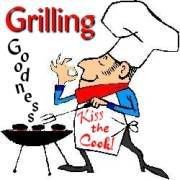 1. If you could have done something different in 2008, what would it be?

I wouldn't have waited so long to move. :) Have I mentioned how much we love it here??

2. What is something that you know will happen in 2009?

In the fall of 2009, my youngest (Spice) will begin kindergarten - also known as the highly anticipated 'big girl school'

[GULP]

Where did the time go? It seems like just yesterday we were awaiting her arrival and now she's a hard headed, full of spunk, can't tell her anything, little miss independent four year old.

3. What is something that you hope will happen in 2009?

It would be nice if I lost a couple of pounds or 20 or 30 or 60.....

4. Do you already have a vacation planned for this year?

If you count Friday - since that was the official first work day of the new year and I took it off, then yes. ;)

Other than that, I have made no vacation plans for this year; however, if anyone wins a trip to somewhere fabulous and is looking for a friend to take along, I'm sure I can make myself available.

I'm just sayin' ;)

5. Are you relieved that the holidays are over?

Yes, I must say, I am glad they're over. As nice a Christmas time is, it is also a very stressful time of year.

6. Did you make a resolution? Will you share it?

I resolved several years ago not to make resolutions, that way I don't get upset with myself on January 2nd when I fail to meet them ;)

So far, that's the only one I've ever been able to keep.

7. How old will you turn in 2009?

A lady never tells and a gentleman never asks... However, since you're not a gentleman and I'm not a lady....I guess it's safe to say that I will be 38 in '09.

Now, should this question have been about my weight....

8. What did you do to celebrate the New Year?

I brought in the New Year doing one of my favorite pass time activities.

Any guesses as to what it might be??

No? Alright then, I'll give you a clue.... It involves the bed ;)

Okay, yeah, so I fell asleep.

What can I say? I guess I'm getting old - Try as I might, as soon as Lawrence Welk cues the bubbles... I'm off to dream land.