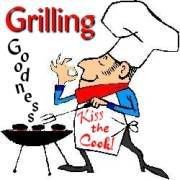 It's time once again for some more of
Tina's Grilling Goodness
. Anyone is welcome to play, just don't forget to go back to
Tina's
and sign Mr. Linky so she can come check out what you had to say. And now, on with the Goodness...
1. Have you ever ridden a horse?
Yes; once, when I was about 13, my friends big sister took us to the park where we could pay to go on a horse ride.
Since I had never ridden a horse before the guy who picked my horse assured me this horse is the perfect horse for a beginner.
"He's very calm and gentle." He told me as he helped me into the saddle and gave me my instructions. Then he gave the gentle animal's rear a pat to send us on our way along the trail.
Just a few feet into the ride and several feet from the trail, my horse decided he was going to stop and graze. Nothing we did could get him to go any further than a few feet before he would stop again to graze a little more.
Gentle was right. This horse was so gentle he didn't want to move....or so I thought....
The next thing I know, this gentle animal turned in to a wild beast! He started bucking at the horse behind him and then took off running - FULL SPEED. We got the attention of every onlooker in the park, him galloping full pace and me holding on for dear life. I just knew this would be the end for me. It was like I was living out a scene from Urban Cowboy.
Since then, riding horses hasn't really been high on my list of things to do...
2. Have you ever run out of gas?
Nope, good thing they make gas-x ;)
Ohhhh
! Tee-hee! Like, you mean have you ever let your
car
run out of gas?!?!
No, I have never done that either; however, there have been times where I have made it to the gas station on nothing more than a wing and a prayer.
3. How many different schools did you attend growing up?

Two private schools in elementary, until we moved at which time I went to the neighborhood elementary school. Then I graduated from the eighth grade and moved on to the neighborhood high school. That makes four!
4. Do you have, and use, a library card?
I love, love, love to read!
I could go broke buying books so I did finally break down and get a library card. However, we have since moved and I haven't gotten a new one yet. But don't you worry...I will have one soon. We have a wonderful library here!! The girls love it!!
5. Hand-wash or dishwasher?

Dishwasher
6. Does your alarm clock beep or play music?
My alarm clock beeps, ALOT! Me being a big fan of the snooze button and all ;)
7. Do you know how to roller skate?

Do I know how?? Yes
Am I any good?? No
Am I stupid enough to get on skates to see if my skills have improved any throughout the years?? HELL NO!! You aren't about to catch me on anything with wheels, where I could fall down and bust
the concrete
my butt.
8. What would you consider one of your biggest accomplishments?
Did I tell you about the time that I left Target without spending a single dime?? I'm just sayin' ;)